Zbnavigation is a white gray zblog website navigation theme. The overall design style is simple, simple and simple. It adopts the layout of left navigation and right site list. It supports two different list pages and details page layout of information classification and navigation classification. It adopts full screen responsive structure, and adapts to terminal access devices such as computers, mobile phones and tablets, which is suitable for website collection, navigation and classification Website navigation or link site.
Screenshot Preview: (Demo address at the end of the content)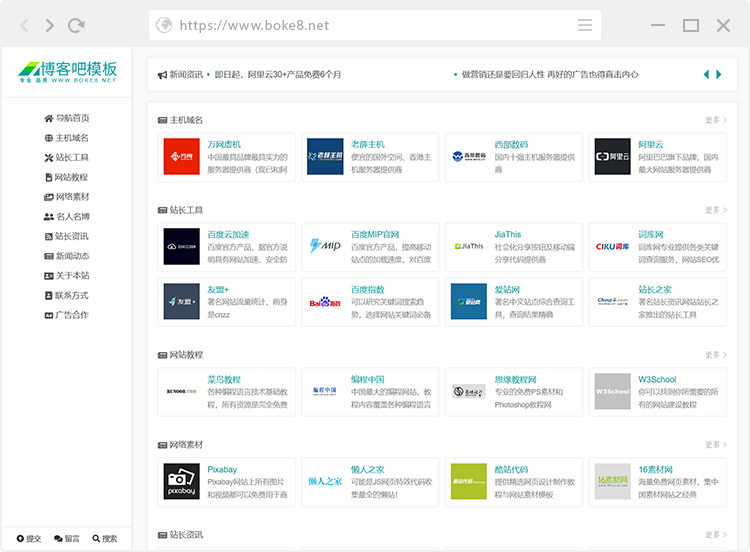 Theme home page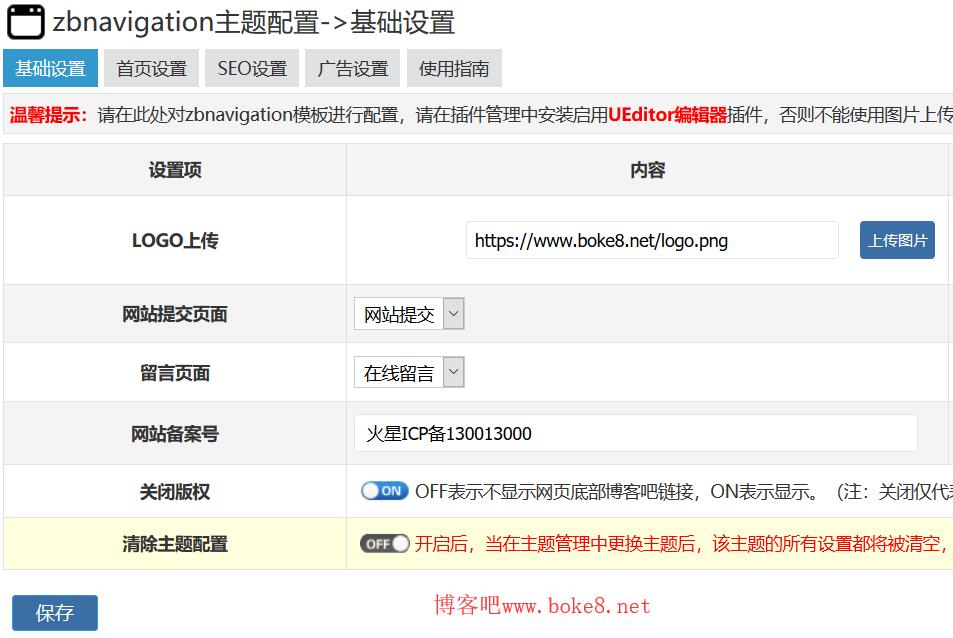 Theme configuration
Theme features:
Support the latest version of zblog PHP 1.5.2 +;
Support the user-defined settings of title, keywords and description of category / article / single page / tag;
Support visitors to submit the site;
Built in information list, site list two kinds of classified list layout and article details layout;
Built in top, article, site content and home page four advertising space;
The theme configuration panel is provided, which can be used to set the home page column, SEO and advertisement besides the basic settings;
Responsive adaptive layout structure;
Compatible with IE9 +, Firefox, chrome, Safari and other mainstream browsers.
Theme demonstration: http://zblog.boke8.net/zbnavigation/
Theme purchase: Z-blog official application center
Template price: 138 yuan / copy, only contact QQ: 1376461866, if you are the one!
---
Topic v1.1 update:
Fix the calling error of the column of the content page;
Add links to the home page.
Topic v1.2 update:
Add webmaster recommendation module to the home page;
The home page is added by top and time, which can be freely selected in the background;
Fixed a setup link issue.
Topic V1.2.1 update:
Update the HTTP link of ICP record number;
Increase the current navigation highlight.
Topic V1.2.2 update:
Support Z-blog PHP version 1.7 +;
Adjust the structure of template file;
Optimize the detail code.
Theme v1.3.0 update:
Optimize the theme background code;
Adjust the theme background setting panel style;
Adjust the ICP record number, and a new window will be opened;
Fixed the problem that search results showed articles in private status;
Remove ueditor editor restrictions.
Topic v1.4.0 update:
Add the content module of the first page carousel;
Adjust the detail style.
Topic v1.5.0 update:
Optimize the background theme configuration panel code;
Increase the classification level of display column option setting;
PHP 7.0 + compatibility adjustment;
Adjust the calling location of background theme JS / CSS file.
Topic v1.5.1 update:
Fixed the problem of pagination of search results list;
Adjust the minimum support for Z-blog PHP version 1.7.0 +.
Topic v1.5.2 update:
Optimize the function code automatically described in the article;
Add the "canonical" attribute link tag on each page;
Adjust the datetime attribute of HTML time tag to PubDate;
Adjust the publishing time to the minute and second.