Start fighting raspberry pie! Do a network set-top box ah, server ah play, the last few days of summer vacation toss about.
preparation
1. I bought a 16g SD card, which is a class10 card, because the speed of the card directly affects the running speed of raspberry pie.
2. Download raspberry pie system image file:
http://downloads.raspberrypi.org/raspbian_ latest
(this is the latest version of Debian based raspbian "wheelzy" download address)
3. Win32diskimager, a tool for installing images under WinXP and win7:
http://sourceforge.net/projects/win32diskimager/files/Archive/win32diskimager-v0.9-binary.zip/download
This is a necessary tool to install a mirror image!
Installation practice
1. Decompress the downloaded operating system image compressed file to get the IMG image file.
2. Connect SD to computer after using card holder or card reader.
3. Unzip and run the win32diskimager tool.


Under "device write", select "device write" in the dialog box, and then select "write".
The speed of the SD card may be slow according to your installation process.
When the dialog box write successful appears, it indicates success.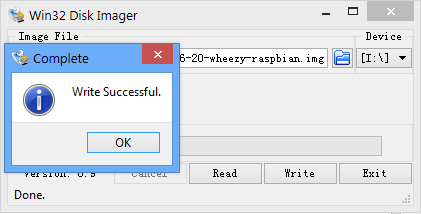 Use Alipay, wechat and QQ clients to scan code and reward
Reward the author
This paper is written by SangSir Creation, adoption Knowledge sharing signature 4.0 International license agreement
In addition to the reprint / source, all articles are original or translated. Please sign before reprinting