summary
What is Weibo open platform
The Weibo Open Platform is an open platform based on the massive number of Weibo users and strong communication ability, accessing third-party partner services, and providing users with rich applications and improved services.
Connecting your service to the microblog platform will help promote the product, increase the traffic of the website/application, expand new users, and gain revenue.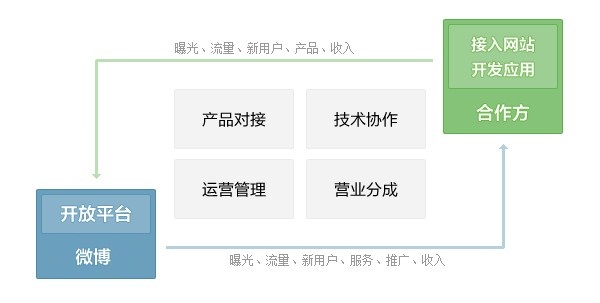 Core competence of the platform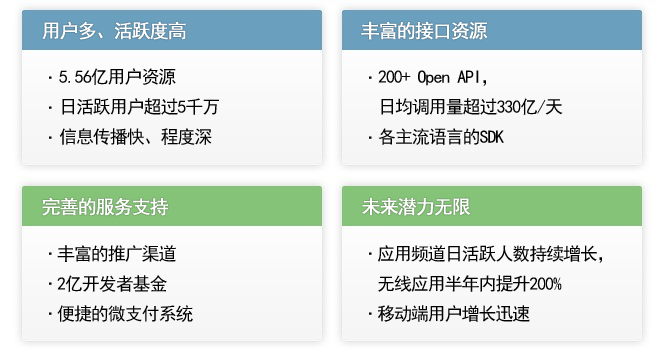 Massive user resources
The number of microblog users has reached 556 million (as of the end of March 2013), and the number of active users has reached 50 million. Access to microblog to realize rapid return and expansion of users.
Rich interface resources
More than 200 data interfaces, including microblog content, comments, users, relationships, topics and other information, and the average daily API calls exceeded 33 billion times. Free access to any language or platform, free of charge.
Multiple SDKs, including software development kits for popular languages such as C++, PHP, JAVA, Action Script, Python, JS, iOS, Android, WP7, etc.
Blogging, reading Weibo and other function instance codes can help you quickly master the API methods and reduce the development threshold.
Perfect service support
In order to more effectively expose applications, the microblog open platform provides a wealth of promotion channels:
Application Card: Display the summary information of the application in the form of a business card combined with graphics and text, so that users can quickly authorize and use the application;
Message channel: Channels for users to receive messages effectively, including application notifications, application behavior dynamics, private messages, etc;
Page recommendation position: Set up display positions for application exposure on Weibo homepage and application channel page, including popular recommendations, latest applications, etc;
Operational activities: Activities operated to promote applications, including festival themed activities, application points mall activities, etc.
Venture capital
Developer Fund
The total amount is up to 200 million yuan, helping you realize your entrepreneurial dream.

Unlimited potential
The number of daily active users of microblog open platform application channels is rising rapidly, among which the number of daily active users of wireless applications increased by more than 200% in the first half of 2013.
The number of developers also increased by nearly 75% over the same period.
The number of users on the mobile end of Weibo has grown rapidly, and the proportion of users logging into Weibo from the mobile end has exceeded 73%.
With access to the microblog open platform, wireless applications will get better development.
As its influence continues to rise, Weibo will gradually become the largest social life platform in China, providing you with unlimited business opportunities.
We can help you
Help you access the website: provide your website with user identity system and social relationship import
see
be based on
OAuth2.0
The protocol supports microblog account login, which can reduce the user conversion cost of the website;
You can also directly obtain various
Microassembly
, such as share button, follow button, microblog show, microblog live broadcast, group microblog, etc., so that the high-quality content of the website can be quickly spread and the number of users and visitors can be increased.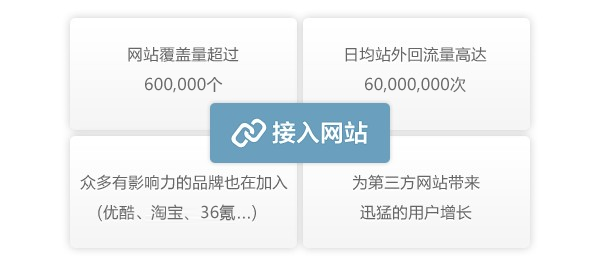 Help you promote applications: provide you with a display platform and build highly social applications
see
The simple and fast access process can allow the station applications/mobile applications to access the platform. On site applications will be embedded in microblog pages in the form of iframe; Mobile applications are accessed in the form of WAP and client applications, which are reasonably and effectively exposed in the application channel of microblog open platform.
Provide advanced business service support: provide data analysis, advertising optimization, social management, homepage customization and other business services to microblog accounts
see
Enterprise partners who have been certified as preferred partners are qualified to use business data APIs and become officially certified data partners of microblog, so that enterprise access users have the ability to provide data analysis, public opinion monitoring, enterprise operation, advertising and other services to microblog accounts.
see
The Page application framework provides access users with the ability to develop microblog page applications, assembles structured pages through a unified framework, and completes the aggregation of information and functions. It is a window for users to obtain information and receive services.
see
Message service is a service provided by Weibo for applications and Blue V to interact with Weibo users and fans.
Through this service, App and Blue V can realize the functions of personal message manual customer service, personal message automatic reply, game friend invitation, price reduction personal message reminder, etc. in their own products.
see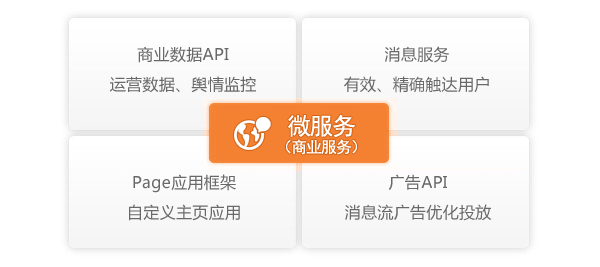 Success stories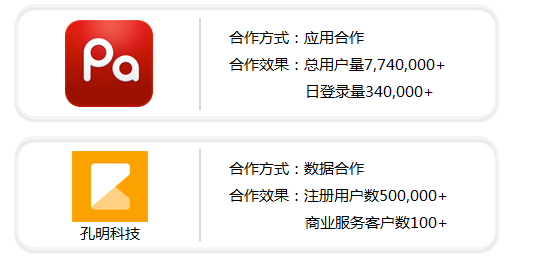 Document update time: 2014-06-09