Bucks Off season Outlook: Free Players and Salary Space
For Milwaukee Bucks, basketball decisions during this offseason will be crucial. Although there are US $73 million guarantee contracts and the right to renew the contracts of free agents Middleton and Brogden, except for other players such as Bradso and Brother Alphabet, there may be earth shaking changes in this summer due to financial considerations and salary cap restrictions. Or, the Bucks can renew most of their players, but at a higher price.
The following are the tough choices the Bucks will face in the off-season, the financial problems they will face, and how their decisions will help them gain an advantage in the future championship fight.
If all goes well, the two players who joined in the middle of the season will stay in the team next season. After all, Hill's contract still has one year left, and Milutinovic's bird right allows the Bucks to complete the extension on the salary cap. The joining of these two players has helped Milwaukee's reserve lineup become more stable, so their departure will also set the tone for the Bucks' operation this summer. The most likely result is that their salaries exceed the salary cap.
Hill's contract will affect the team's luxury tax and Brooke Lopez's team options. Although he is not a free agent, the Bucks can decide whether his contract will be fully guaranteed before July 1. Currently, only $1 million has been protected. If Hill's contract is converted into full guarantee, the Bucks' total salary will reach $93 million, but when Middleton and Brogden are renewed, the total salary will exceed the salary cap. They can choose to sacrifice the salary space or use the full middle class of 9.2 million dollars to sign back Lopez.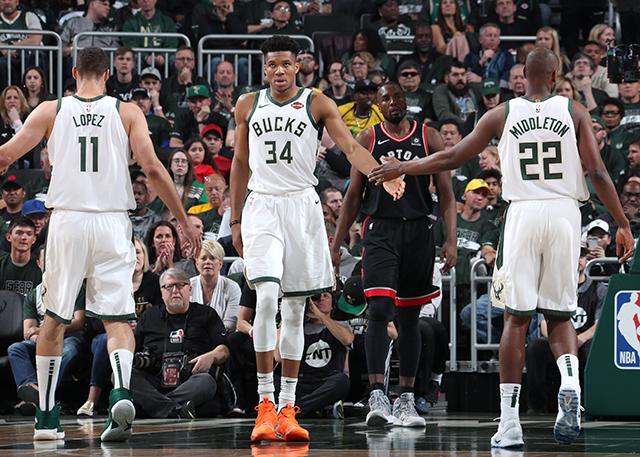 After two years of 25 million yuan contract, the annual salary of Mirotic's next contract is expected to be 13 million to 14 million yuan. If the Hill contract is finally turned into security, Milotici is signed back, and Lopez is renewed at a price lower than the market price, the Bucks' estimated total salary is $160 million, which requires a luxury tax of $77 million. That is to say, to maintain the main team of 60 wins this season, the Bucks' management will spend an additional $110 million.
First, look at Lopez. After signing a one-year contract of $3.3 million on two-year terms last year, Dalloz will not be able to use the bird rights to renew this year, which also limits the salary provided by Bucks in the new contract - a contract of $3.96 million, or a mini middle class of $5.7 million.
In order to create additional salary flexibility, Hill had to be laid off on the premise of abandoning all players except Middleton and Brogden. At that time, the Bucks will have 10.3 million dollars to deal with Lopez's contract renewal, which is more than enough. It will also end the concerns about hard salary caps. At the same time, they have 4.8 million dollars of special case space to supplement from the free player market.
Trading Tony Snell is another way to create space. Snell's current contract still has two years and 24 million dollars left. Therefore, teams in the league cannot use it as a means to reduce future salaries. Instead, it is more like signing a free player for reinforcement. At present, the Bucks only have the second round of signing in 2022, 2023 and 2026 as the addition to the transaction. This move, together with the abandonment of other free players (excluding Middleton and Brogden), will create a space of 20 million dollars for them, enough to extend the contract of Los Angeles and strengthen the bench.
It is easier to renew Middleton. Milwaukee can offer him a five-year contract worth 189 million dollars or a four-year contract worth 147 million dollars after the free agent market opens. These two contracts can let Middleton put down his guard before meeting other teams. Or the Bucks can let the market decide the price of Middleton's new contract. Although he is not a restricted free player like Brogden, who holds the right to match, Bucks management needs to observe which teams want to bid, and how many teams want to offer Middleton a top salary.